Previous Events
Queensland Medical Orchestra and Choir have been performing since 2010. Here is a log of some of our previous events.
Spring Soiree
Date: Sunday 10th October
Time: 2pm
Venue: The Ian Hanger Hall, Griffith Conservatorium, South Brisbane
Our intimate chamber music event showcases some of our best musicians in small ensembles, performing pieces from all eras.
---
Virtuosis 2021
Virtuosis, as always is a classical highlight of our QMO year. Despite some rehearsal setbacks associated with recent lockdowns and restrictions, we feel very lucky and privileged to bring you another fantastic Virtuosis concert to you in the midst of a pandemic.
We have a great repertoire in store for you, with a huge variety of soloists. In times like this, we treasure the opportunity to indulge in our passion for music making, and being able to play for an audience. We sincerely hope you will appreciate this event as much as we enjoyed preparing for it.
Virtuosis raised $5000 for Ashintosh and $5000 for AFSG (Amputee Family Support Group).
---
Screen & Stage Spectacular
We were pretty excised to have our first concert in 2021, after COVID-19 in 2020. This was an afternoon of music filled with Blockbuster Movies and Broadway Shows. The program includes themes from Star Wars, Mission Impossible, Lord of the Rings, to stage musical excerpts from Wicked, Chicago, and Westside Story, just to name a few. Proceeds from this concert will go to Ashintosh Foundation.
This event has raised over $5000 for Brook Red and Ashintosh Foundation each.
---
Joy to the World 8th December 2019
2019 has been a big year for the QMO - a massive concert of German classics to begin with, more soloists than ever for Virtuosis '19 (our first in our new home at St Laurence's) and two intimate chamber performances. For the last time this year, we come together as a group of health professionals (past, present and future); friends and family to celebrate Christmas.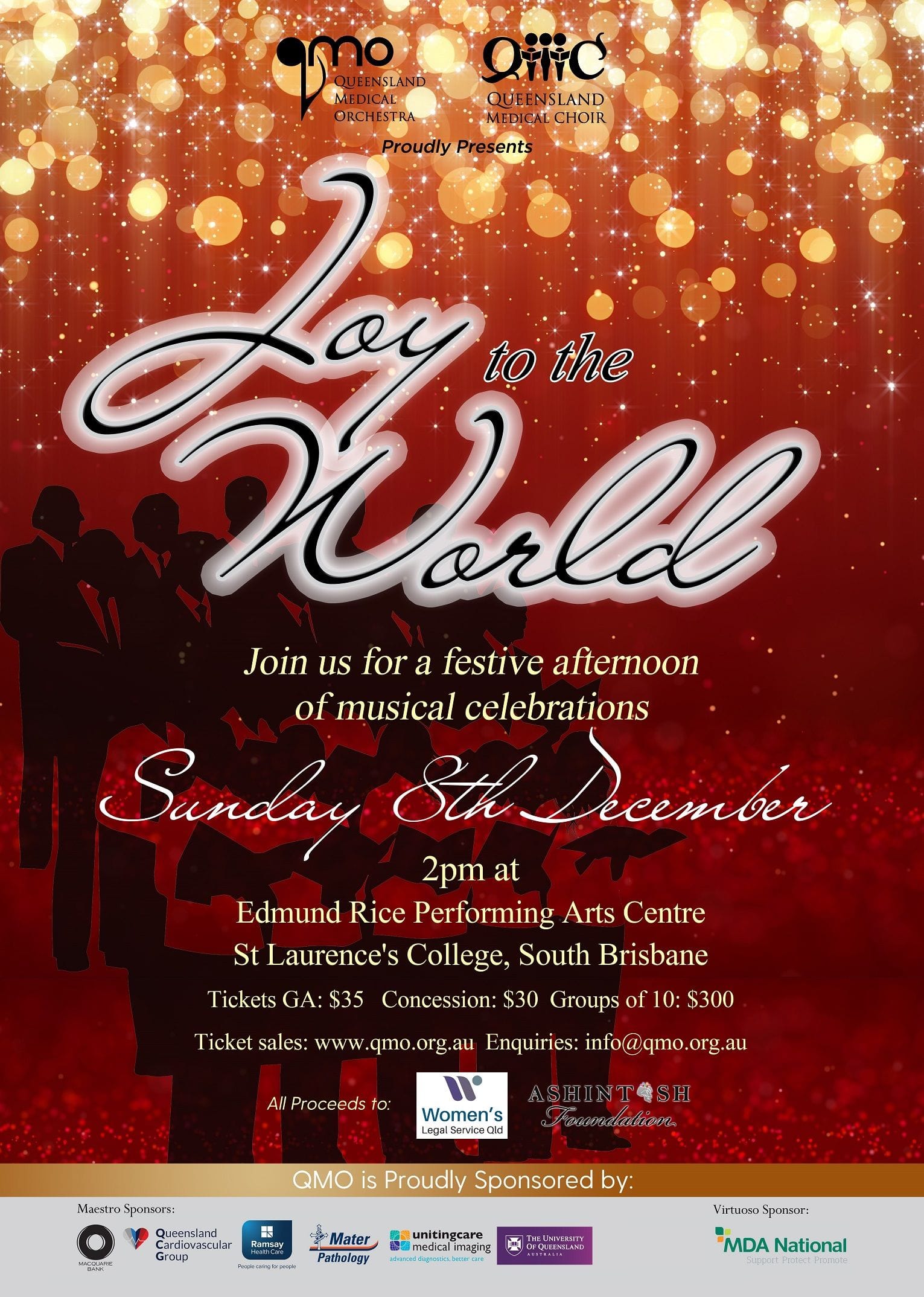 Unfortunately Christmas isn't always the happiest time of year for everyone. We've recently seen bushfires and storms causing incredible damage. There are also those who suffer in a more hidden way, and that is why we are contributing to Women's Legal Services Qld to support their work with those in need this Christmas.
We thank you all for joining us this afternoon and pray that our music may help to bring a little more Joy to Our World.
This concert raised over $8000 for Ashintosh Foundation and Women's Legal Services QLD.
---
Virtuosis 2019 30th June 2019
We would like to report on the 2019 epidemic of Virtuosis in the Queensland Medical Orchestra. This condition is manifest by surprising musicality, humility and passionate performance and has previously been documented for its annual manifestation1. This year's outbreak is remarkable for its magnitude and lack of discrimination by musical section, involving even the percussion, a phenotype previously thought to be immune to the condition2.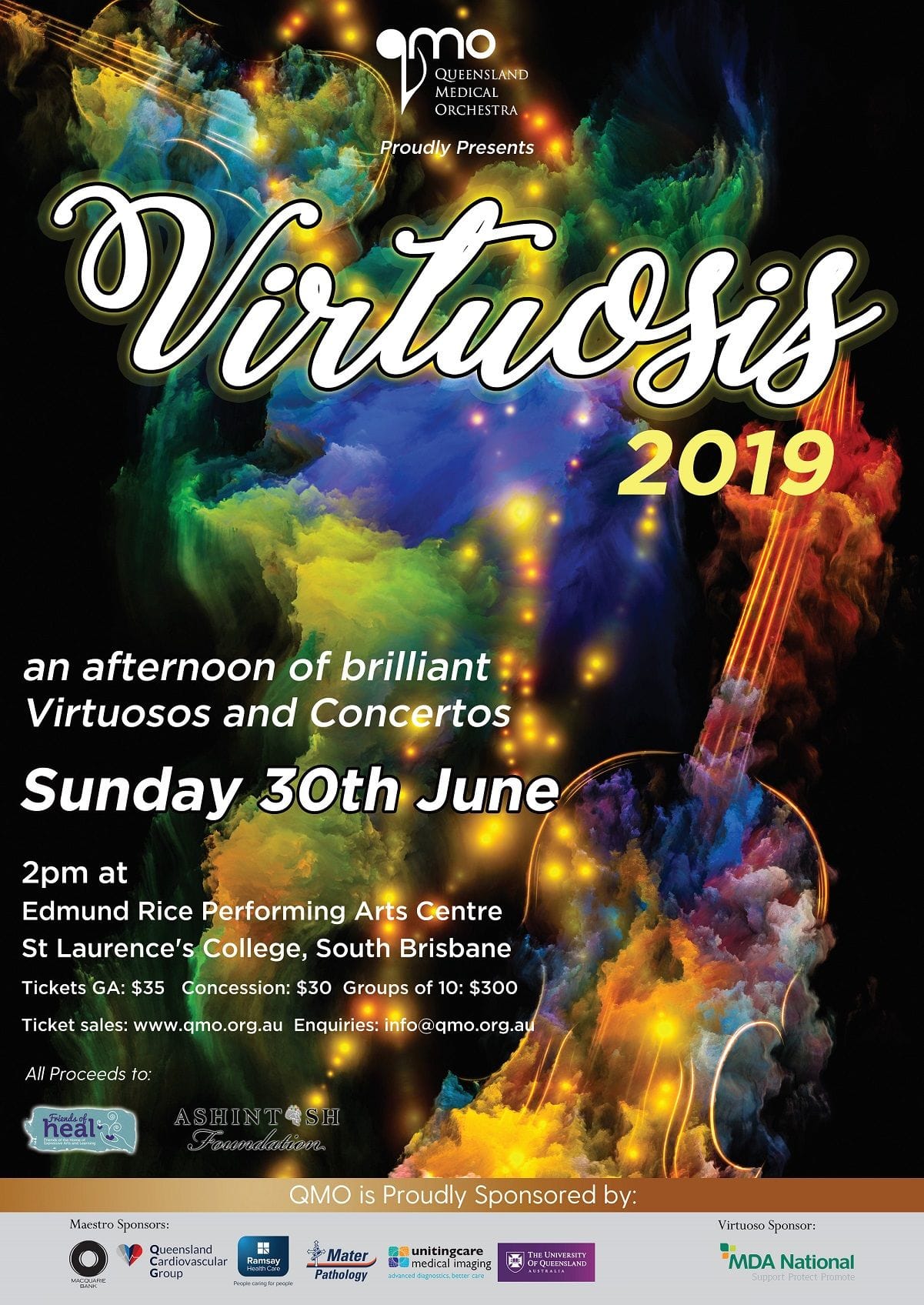 Containment was achieved through performance of 2 solo and 3 double concertos, 1 Czardas extravaganza and 2 of the most famous overtures. Side effects included sympathetic symptoms in audience attendees and delayed joyful manifestations in refugee students through Friends of Heal.
Immunity does not seem to develop to Virtuosis and this year's season should be one of the most intense on record.
Virtuosis raised over $4000 to Friends of Heal Foundation and Ashintosh Foundation.
---
Bach to Brunnhilde 7th April 2019
Grüss Gott to all of our QMO friends and family and Wilkommen to our first concert for 2019. The music of Austria and Germany serves as a pinnacle of western art. The trills that help drive the Valkyries' mythical horses home to Valhalla and the bassoon runs of Mozart's famous Overture (with "too many notes") are instantly recognizable to all listeners.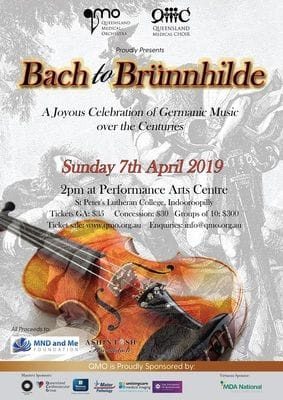 With the support of the Queensland Medical Choir we will take you from the divinity of Bach to the pulsing and almost vulgar text of Carmina Burana. Beethoven's 9th Symphony is consistently rated as one of the greatest pieces of classical music ever composed, featuring the choir jubilantly extolling Schiller's "An die Freude".
Our musical celebration today will help raise funds to help improve the care of patients with Motor Neurone Disease. Thus the joy we feel this afternoon can be carried forward to support those in need.
Vielen Dank!
Over $5000 was raised for MND and Me and Ashintosh Foundation.
---
Carols & Cures 16th December, 2018
The QMO and QMC celebrated a special occasion: our Silver Anniversary during this concert!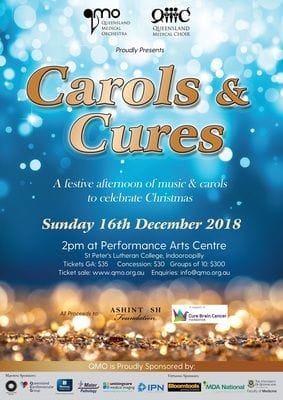 In 2004 the University of Queensland Medical Society Orchestra (UQMSO) was founded by Dr Nicholas Brown alongside the Ashintosh Foundation. Unfortunately, a few years later this inspirational project went into hibernation.
Fortunately, in 2010 Dr Ryan Williams and Dr Andrew Hutchinson were able to awaken the UQMSO from it's slumber to create the QMO as you now know it.
25 concerts later, the QMO has performed repertoire spanning over 400 years to raise funds and awareness for charities that help people all over the world. Moreover, we have brought together almost a generation of medical students, doctors, health professionals and "patients" to make music with one another.
In Carol and Cures, our audience joined us in music making for our always anticipated Christmas Concert. Our proceeds went towards the Cure Brain Cancer foundation, an organization that hopes to improve outcomes for patients all over the world through research, advocacy and awareness.
Cure for Brain Cancer Foundation and Ashintosh Foundation received over $7000 from Carols and Cures.
---
Virtuosis 2018 15th July, 2018

Welcome to our annual dose of Virtuosis for 2018. This condition seems to persist despite many of the stressors of modern medical life and we are glad to show you the pathognomonic signs this afternoon. Variants on display include brilliant soloists, passionate instrumentalists and exultant choristers.
Our orchestral OSCE today has a very international flavour. Our cellists showcase an English pastoral phenotype in Elgar's Cello Concerto, our choir and orchestra join for an Italian case as reported in Nabucco. The Russian manifestation of Rimsky Korsakov is quite dramatic, with a distinctly brassy colour and our German subtype involves a quite rapid, but regularly regular bassoonist. Finally our conductor's subacute Norwegian case has flared in the Grieg Piano Concerto
Fortunately our teaching round this afternoon will not only benefit us and our audience musical clinicians, but also Mummy's Wish, a charity that helps treat the broader impacts of terrible illness on families.
We hope you enjoy our concert. Be warned, Virtuosis is apparently contagious!
Mummy's Wish received $5000 from Virtuosis 2018.
---
A Space Odyssey 15th April, 2018
Nothing has inspired human imagination like the incomprehensible immensity of space. Our opening concert of 2018 showcases music inspired by this final frontier. For over 50 years we've been watching the adventures of the TARDIS and the Enterpise, anticipating adventure when those iconic themes play. John Williams leitmotifs are more recognised than those of Wagner and Johann Strauss's most famous work conjours Space Station 5 rather than a European River.
However, it is not just science fiction that has inspired musicians. Debussy's incomparable impression of moonlight reflecting on a flowing stream is one of the most serene pieces ever composed. Gustav Holst saw the horror of the First World War and created the terrifying march of Mars. With the concert, we also hope we can help needy children dream for the stars, with proceeds going to the Starlight Foundation and the Ashintosh Trust. We welcome you to voyage with us on our Space Odyssey.
We donated over $7000 to the Starlight Foundation and Ashintosh Foundation from our concert.
---
Christmas Miracles 17th December, 2017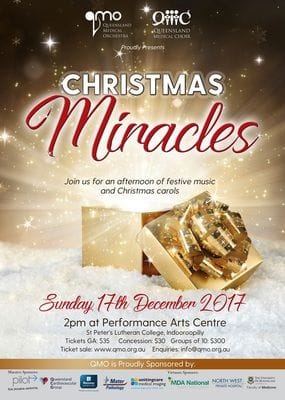 After what had been somewhat of a divisive year outside the QMO realm, we came together in unity for an afternoon to celebrate our annual Christmas concert. Regardless of religious beliefs, the symbolism of the nativity miracle seems especially relevant at the moment. A humble migrating family bearing a defenceless child into a turbulent world. An optimistic miracle, witnessed by kings and shepherds, locals and foreigners.
"Jauchzet, frohlocket" [rejoice and exult] sound the choir in the opening to Bach's Weinachts-Oratorium, with heraldic music from the orchestra, transporting us to a Gothic Lutheran Church in Leipzig as they celebrate this miracle. Vaughan Williams' Fantasia on Christmas Carols, takes us through English counties with local folk song carols used throughout the centuries to bring communities together at Christmas time. Of course a lot of our modern Christmas mythology comes from America, with sleigh rides, White Christmas's and "Baby, it's Cold Outside". Despite the irony of singing these songs with the mercury outside reaching 40oC, they still bring back memories of fond times with family and friends, the miracle of togetherness at Christmas.
There could be no more appropriate charity to donate to when we celebrate the birth of a child in a stable than Share the Dignity, a charity that helps women forced from their home or fearing their safety. Share the Dignity also advocates provision of sanitary products for women without a home, giving them the basic dignity to survive the harsh realities of homelessness. We are glad for the opportunity to give back to our community to help those in need this time of year.
We donated over $10,000 to Share th Dignity and Ashintosh Foundation from our 'Christmas Miracles' concert.
---
Virtuosis Gala 5th August, 2017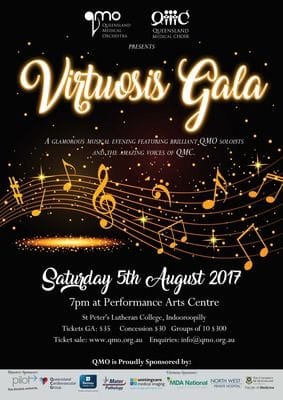 Each year QMO offer an opportunity for the solo talents of those in the medical profession to shine, performing some of the most challenging and dazzling works from the orchestral repertoire. We were excited to move into our new performance venue, the St Peter's Performing Arts Centre. We featured the beautiful precision of German Classicism in the complete Haydn 'Cello Concerto in C and the Weber Clarinet Concertino. This was contrasted by the passion of the French Romantics with Chaminade's Flute Concertino and Saint-Saëns Piano Concerto no. 2.
The Queensland Medical Choir joined us both in full voice with patriotic choruses from Finlandia and Les Misérables and also more intimate poetic pieces such as Stanford's "Bluebird" and the timeless "Hallejulah". Our QMO family's primary goal is to bring professionals together through music, empowering us to support one another in an environment where division, humiliation and burnout are all too common. This concert was held in memory of a terrible loss for our QMO and QMC Family. Dr Andrew Bryant, a well-respected gastroenterologist and one of our most enthusiastic baritones, tragically took his own life in May this year. This story was bravely shared by his family in order to raise awareness to Doctor's Mental Health. In Dr Bryant's memory, we donated over $7000 to beyondblue.
---
Care to Dance? 19th April, 2017
This was our biggest production to date, a concert with more than 110 players, and over 14 guest artists - 9 from Queensland Ballet Academy, Bill Simpson and Dr Kris Kerr from Red Hot Rhythm, Simone Pope from Flamenco Studios, Dr Peter Robinson as our Sinatra-crooner, Maestro Nigel Gaynor as our guest conductor. This production also featured our own Dr Ryan Williams in his Irish Dancing shoes and Dr Lily Vrtik with her castanets and Flamenco shoes.
The Queensland Ballet Academy Dancers enhanced excerpts from the Nutcracker Suite with elegance, poise and acrobatics, bringing Tchaikovsky's exotic imagination to life. We contrasted a northern European Christmas with the heat of Andalusia as Simone Pope and Dr Lily Vrtik drew everyone into the world of Flamenco. The New World wasn't forgotten as Bill Simpson and Dr Kris Kerr tapped out some jazz classics. There was also a surprise appearance from an anonymous multitalented doctor for some Irish Dancing.
Maestro Nigel Gaynor, Musical Director of the Queensland Ballet, has once again donated his time to lead the orchestra for selected ballet classics from The Nutcracker Suite. Our very own Dr Ryan Williams also took us through incredible music inspired by dance all over the world, from the Viennese Ballroom to the streets of New York.
Whilst this concert was a joyous celebration, as a medical fraternity, we also realised that there were times when our patients and their families struggle. These stresses can be felt especially as patients enter the final days of their lives. The Karuna Hospice palliative care service provides invaluable support to these families in the community, through hands on care, emotional support, education and advocacy. We were proud to be able to donate proceeds of our concert to help their clients, as well as contributing to our parent charity, The Ashintosh Foundation.
Photos from this concert are in our Photo Gallery..
---
Christmas Fantasia 11th December, 2016
2016 has been a wonderful year for the QMO family. Our Best of British concert featured our first collaboration with a professional conductor with Queensland Ballet Musical Director Nigel Gaynor on the podium. The annual Virtuosis concert left the audience and orchestra spell bound with a Rach 2 for the ages. A new addition to the QMO calendar, the Spring Soiree was a wonderful treat of high class chamber music in the beautiful (and posture correcting) Brisbane Boys Grammar Great Hall.
Now it's time for our season closing Christmas Fantasia Concert. The Queensland Medical Orchestra, Queensland Medical Choir and, for the first time, Queensland Medical Orchestra Big Band performed an afternoon of Christmas Carols and Festive songs, both conventional and reimagined. There was, of course, enthusiastic audience participation.
Whilst we all love making music together, QMO is also about helping those less fortunate than us. Proceeds from this concert was over $5000 which will go towards the 139 club. As physicians, we often encounter those people who, through mental illness, substance abuse or physical distress end up sleeping rough and this organization seeks to help those who have no one else.
---
Virtuosis Sunday 17th July, 2016
The Queensland Medical Orchestra brings a variety of unique talents together. However, amongst our ranks can be found the exceptional genius that we celebrate today in our annual Virtuosis concert. One might not suspect that the professor discussing osteoporosis is also a concert pianist or the doctor doing their discharge an elegant violinist.
We are lucky enough to have six of these prodigies performing the luxurious and sensual Rachmaninov 2nd Piano Concerto and the perfect melodies of the Mozart Violin Concerto No. 4. The individual skills of the orchestra will also come together in colourful depictions of the Moldau River and the awesome might of Roman Legions returning home via the Appian Way. The Queensland Medical Choir will then draw us up to the spiritual level as we are spared from Mozart's Judgement Day and delivered to Franck's heavenly Manna.
Proceeds from this concert raised over $5000 for Muscular Dystrophy Queensland and also similarly for Ashintosh Foundation.
Click here to see highlights of this concert from our Youtube Album.

---
Best of British Sunday 17th April, 2016
Best of British featured majestic, nostalgic and magnificent music from the United Kingdom. Our guest stars included Nigel Gaynor, guest conductor from Queensland Ballet. We also enjoyed the mesmerising voice of Tanya Cooling, and the majestic sound of bagpipes by Dr Will Nicol. Our multi-talented director, Ryan, showed off his footwork in Lord of the Dance and our concertmaster, Eleanor wowed us with her poweress over the violin in Toss the Feathers. Overall, it was a celebratory success enjoyed by our audience of all ages.
Proceeds from this concert raise over $4000 for The Prince Charles Hospital Foundation and also similar amount for Ashintosh Foundation.
Click here to see highlights of this concert from our Youtube Album.
---
Adagio for the ANZACs Sunday 26th April, 2015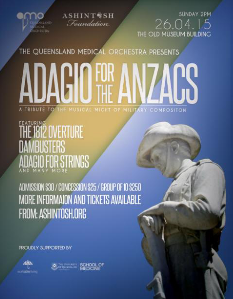 On the 25th of April 1915, the young countries of Australia and New Zealand entered the horrific theatre of the First World War. This concert was an opportunity to reflect the spirit of the ANZACs. The terrifying march into the First World War expressed by Gustav Holst in Mars; the jubilation of the Russian victory over Napoleon in the 1812 overture; the somber sentimentality of the late Peter Sculthorpe's depiction of rural Australia in Small Town; and the mournful Adagio of Samuel Barber. These pieces all reflected different aspects of the emotions one might have felt on that cold Turkish beach. Lest we forget.
Proceeds from this concert raised over $7500 for Legacy
---
Ashintosh 10th Anniversary Gala 26th July, 2015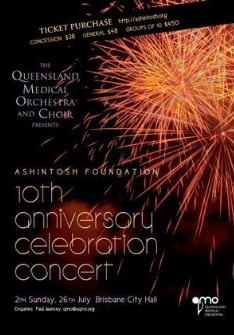 To celebrate a decade of charitable work by the Ashintosh Foundation, the QMO and QMC held a gala celebration in the City Hall Auditorium. Over 700 people enjoyed a special afternoon of symphonic masterpieces in this renovated venue. The massive City Hall Organ thundered in the concert at the conclusion of "Dawn" from Also Sprach Zarathustra. Brahms, Rossini, Saint-Saens, Elgar, Sibelius (with QMC singing in Finnish!) and Mercury all contributed to the proceedings. However, the highlight was a full performance of the Carnival of the Animals featuring 13 soloists from the QMO. The afternoon finished with the amassed force of QMO and QMC performing the finale to Beethoven's Choral Symphony.
Proceeds from this concerts raised over $6000 for Ashintosh and the Wesley Research Institute
Click here to see highlights from this concert from our Youtube Album.
---
The 13th Day of Christmas 13th December, 2015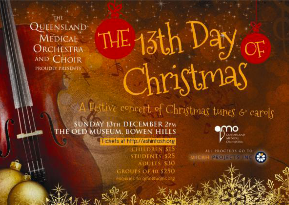 Homecomings are always welcome at Christmas time and QMOs return to the Old Museum Building was no different. The orchestra and choir enjoyed joining with the audience to perform Christmas Carols, both their traditional versions and more imaginative reworkings. Dr Sarah Cunnigham sang beautifully in "The Lord is My Shepherd" and a performance of the Emperor Waltz made the OMB feel more like the Musikverein in Vienna at New Years. There was even an appearance by the can can. However, this concert also represented another milestone, the return of Dr Hutchinson's inimitable whinney.
Proceeds from this concert raised over $8000 for Ashintosh and Micah Projects Inc
Click here to see highlights from this concert from our Youtube Album.
---
Beyond Broadway Saturday 5th April, 2014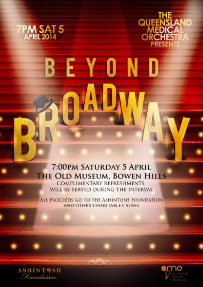 2014 started with a night of Razzle Dazzle in an epic night of song and dance. With repertoire spanning almost a century from Cole Porter to "Wicked". Symphonic suites from "West Side Story" and "Fiddler on the Roof", QMO was able to flex it's dramatic muscle. The QMC then joined for medleys from classics such as "Grease" and "The Phantom of the Opera". 135 performers and over 400 in the audience left with Tibialis anterior cramps from all the toe tapping.
Proceeds from this concert were donated to the Ashintosh Foundation
---
Virtuosis Sunday 6th July, 2014

The pedigree of musical talent siting within the QMO was on display today, with 9 different soloists performing some of the all time greats. The main feature was two complete concerti. The Tchaikovsky Piano Concerto represents the pinnacle the composers romanticism and this thrilling emotional ride was led by Jee-Yong Kim, Paul Lim and Emma Lumsden. Bruch's violin concerto contains unmistakable lyricism, that came soaring off
the bows of Debbie Lee, Prof. Emma Duncan and Eleanor Robinson. These were balanced by the baroque precision of Dr Zhenya Welyczko in Bach Minuet and Badinerie for flute, the classical balance of the Geoffrey Wu's interpretation of the Carl Maria von Weber Clarinet Concerto. The French were represented by the finale to Eduoard Lalo's 'cello concerto performed by Michael Lam.
These solo feats were balanced by the tutti immensity of selections from Carmina Burana performed by the QMO and QMC. These primal settings of mediaeval secular tunes depicting spring time and love surged and pulsed until the explosive conclusion of O Fortuna.
Proceeds from this concert went to the Doctor's Health Advisory Service
For highlights of this concert, please visit our YouTube Album.
---
A Classical Christmas Sunday 14th December, 2014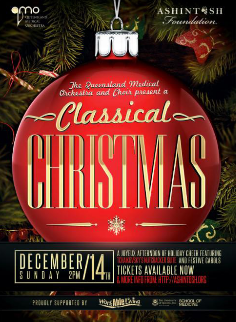 2014 concluded for the QMO with our annual Christmas concert. In addition to the carols and fun festive medley's we all love, this year featured a more classical flavour. We performed the entire Nutcracker Suite, including "The Dance of the Sugar Plum Fairies" with 8 flutes. Sacred music also took a prominent role with Bach's "Jesu, Joy of Man's Desiring" and the introduction to Vivaldi's Gloria. The QMC also joined with Howard Goodall's "Love Divine". These themes combined in the traditional finale of the "Carol of the Bells" initially a capella and then swelling to a full orchestral conclusion.
Proceeds from this concert were donated to the Ashintosh Foundation
---
From Russia with Love Sunday 7th April, 2013
The music of Russia has often been admired in the west for it's colour, energy and exotic melodies. Drawing on over 100 years of this musical heritage, the QMO put on a concert that tackled names such as Shostokovich, Borodin, Rimsky-Korsakov and, of course, Tchaikovsky. From the opening brass fanfare of the "Festive Overture" of Shostokovich to the triumphant bells and cannons of the "1812 Overture", the audience barely had a chance to catch a breath except for Maestro Williams bilingual interjections!
Proceeds from this concert were donated to The Australian Red Cross
---
Virtuosis Saturday 6th July, Sunday 7th July 2013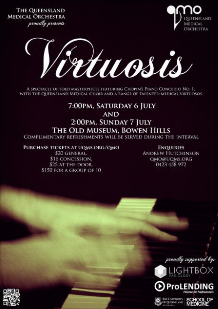 The talent on display for this concert was so abundant, that two concerts were justified. Jee-Yong Kim, Emma Lumsden and Dr Brendan Wisniowski took the audience through the poetry of Chopin's Piano Concerton in E minor, Michael Lam made his 'cello sing with the lyricism of the 1st movement of Dvoák's Concerto and Eleanor Robinson tackled the frenzy of the Finale to Sibelius's Violin Concerto without fear. The Queensland Medical Choir provided a juxtaposition Adiemus from "Songs of Sanctuary" and the orchestra finished off the soloist fireworks with Rimsky Korsakov's "Capriccio Espagnõl".
Proceeds from this concert were donated to The Ashintosh Foundation and The Ecumenical Coffee Brigade
---
A Merry Medicinal Christmas Friday 20th December, 2013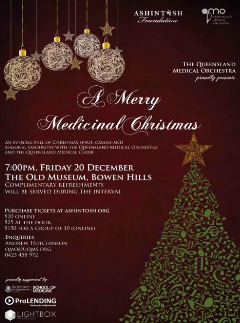 Another twilight concert finished 2013 for the QMO and QMC. Full of all the favourite carols, with Leroy Anderson again playing a major role (including a virtuoso display on the typewriter), we took time to doff our Santa hats to our the British forbears (who were down 3-0 in the Ashes at the time) with Elgar's Pomp and Circumstance March No. 1. However, for the orchestra, the most memorable part of the concert was when a variation of "We Wish You a Merry Christmas" inspired by a Far, Far Away Galaxy was heralded with the tempo marking "Force"-fully.
Proceeds from this concert were donated to the Ashintosh Foundation and The Red Cross Typhoon Haiyan Appeal
---
A White Coat Christmas Sunday 16th December, 2012
The annual QMO Christmas Concert again provided an opportunity for our audience to come together to sing Christmas Carols and listen to some old favourites. WE were transported from the sweltering heat outside to Winter Wonderlands by Leroy Anderson's perennial classics "A Christmas Festival" and "Sleigh Ride". These were balance with some more profound entries such as "The Lord is My Shepherd" (featuring Dr Cara Odenthal a vocal soloist) and the finale from Beethoven's 9th Symphony. Quite the way to finish off QMO's third year.
Proceeds from this concert were donated to the Hear and Say Centre